Print Size: 24.0″ x 16.0″
Frame Size: 34.0″ x 26.0″
Print Finish: Ultra-Matte smooth finish
Paper Type: Hahnemuhle Photo Rag 308
This is a smooth bright white 100% rag based paper specifically designed for digital photography. The heavier 308 gsm paper provides the weight of an art paper with a smooth calendared surface, which picks up every detail captured in the photograph. The coated side of this paper provides excellent image sharpness and optimum color graduation. Hahnemuhle Photo Rag is the most popular paper chosen by photographers to create high quality fine art prints.
Mat Color: Digital White
This conservation matboard is pure white with a smooth surface. Each is made from 100% alpha cellulose, and is fade and bleed resistant. Alpha cellulose is produced from buffered wood pulp specially treated to remove acids and lignins.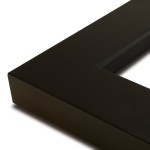 Frame: Nielsen Bainbridge EcoCare 2″ Black Frame
This black frame features a classic squared look with straight edges and deep boxy profile and wide face. The materials used to make this frame are also environmentally friendly.
Glazing: UV protection Acrylic
UV acrylic is conservation quality and blocks 98% of harmful UV rays. It is lightweight, durable and resists breaking. Conservation acrylic may be cleaned with ammonia free glass cleaner. Use only soft cloths that are free of debris when cleaning acrylic to prevent scratching.